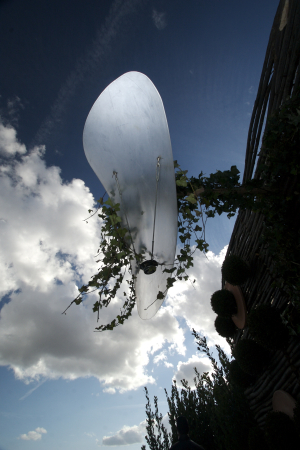 The Sound Garden : nature - sound - light - environmnet. In 2003 Stefano Passerotti, while renewing an old park in the hillside of Florence, he starts a natural collaboration with sound artists for an alternative point of view of the Garden as interaction space within sound objects and special botanical choices. From this method borns the very unique vision of Garden as experimental environment of technical solutions, materials and aestethics, as space for continuous hybridation of nature and artefacts. This way the garden becomes like an oasis, a place of exchange with nature, where you can compose with the city elements. The idea is that, such a place, brought into one or hundreds other cities, could decompress the acustic chaos of cities, giving back nature to humans.
In 2008 a very important meeting contributes on Stefano ideas, while working on a Swiss committance he mets Arch. Ivano Gianola, from the Ticinese School. In Gianola's aestethics Stefano learn the balance between elements, the proportion between inside and outsie and he applies the same rules to gardens.
During his path, Stefano orients his vision on the contamination of expressions, combining nature with human creativity. On this vision, man, nature, sun, water and sound, all bring the same creative strenght. Stefano's realizations are oriented on creating gardens like microcosmos, real containers of cross-platform messages, with the contribute of artists like Chicco Margaroli, composers like Francesco Mantero or directors like Lorenzo Guarnieri.
Stefano Passerotti Via Francesco Baracca, 40 50127 Firenze | C.Fisc.-CCIIAA-P.Iva PSSSFN63A11D612R - 04662680489 | R.E.A. 468558